How long have you been married?
Where was your first date?
Me: Well, we dated twice. Plus, we were in high school. So I don't know if we ever had an official first date. The second time we dated we went on an accidental date before we were officially going out when our friends baled on us last minute. We went to Kyle's sister's wedding for our first "date" after we were dating the second time. Confusing, I know.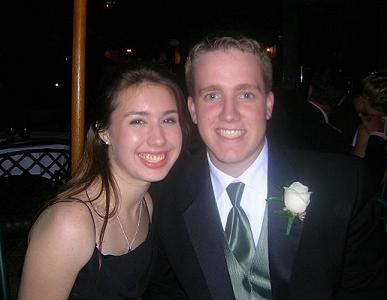 Where was your first kiss?
Me: At church
Kyle: At church, right after she had changed from some event. It was a really bad time.
Who first said, "I love you"?
Me: I would guess him, but neither of us can remember the first time we said it. Whoops!
Kyle: I think it was me.
What were your wedding colors?
What is her most commonly used phrase?
Me: I honestly have no idea.
Kyle: I don't think she has a common phrase.
Who is her celebrity crush?
Me: I've never had crushes on celebrities.
Kyle: Girl wise it would probably be Jennifer Aniston or something.
If she was ordering drinks for both of you what would you each get?
What is the best meal she has ever cooked you?
Me: One Valentine's Day I learned how to make Chicken Parm and made it for him for dinner.
Kyle: Valentine's Day a few years ago. She made Chicken Parm. Just because that day was memorable. The chicken was really good and then she made really good chocolate guitars. It was just an overall good meal.
What is the worst meal she has ever cooked you?
Me: Right after we were married I made a chicken dish in the crockpot. It had cream cheese in it and it completely burnt to the edge while I was gone. I think that was the only time we've ever had to scrap a meal. I've never cooked anything in the crockpot that requires cream cheese since.
Kyle: There was something that she used to make really well and now she's having trouble making it just right.
What is the most-played song on her iPod?
Me: It changes based on my mood. Glee soundtracks and Taylor Swift songs are my go to, so one of those for sure.
Kyle: I'd have to say a Taylor Swift song. Don't ask me which one because she listens to all of them.
What would she say is your most annoying habit?
Me: Timeliness!! He is never ever on time for things and it doesn't bother him at all.
Kyle: Probably not doing the dishes right away.
What is the last thing she does before she goes to bed?
Me: Watch TV. I fall asleep to whatever TV show we're currently watching every night.
Kyle: The last thing before she truly goes to bed is give me a kiss good-night. Although she kinda falls asleep while we watch Friends at night.
If you could throw out one item of her clothing what would it be?
Me: I really don't know if he even cares.
Kyle: I'm going to go with a safe bet. Probably one of those sundresses because she has so many of them and doesn't want to wear them anymore.
What would you say is your favorite thing about her?
Me: We played a game at my bridal shower and he said then that it was the fact that he knew he could always trust me.
Kyle: It might sound dumb, but her reliability. If I need her to get something done I know she'll do it and I don't have to worry about it. And her butt :)
What's her go-to drink at Starbucks?
Me: If I'm going for basic, iced coffee with milk and sugar. Something more "fancy", java chip frap.
Kyle: She gets something basic, I want to say iced coffee. I'll say iced coffee, but when it's in season anything that has pumpkin in it. Like Pumpkin Spiced Latte.
What's her blog's name?!
Me: Come What May
Kyle: I think it's Come What May