When I first saw
this pin
I knew that I had to try it immediately. For one thing, my crockpot is my favorite appliance by far. If I could make everything in it I totally would. Second, I love making homemade bread. This artisan recipe I made the traditional way before and while I loved the bread I really didn't have the materials to do it properly. Plus, having to create the steam scared the crap out of me!
If you haven't heard about Artisan Bread in Five you're missing out. Their dough is so simple to make and can be refrigerated for up to two weeks. The recipe makes four pounds of dough, enough for four loaves. I decided to only make enough for one loaf as a tester.
Ingredients (1 Loaf)
3/4 Cup Lukewarm Water
3/4 Teaspoon Granulated Yeast
3/4 Teaspoon Morton's Kosher Salt
1 5/8 Cups Unbleached All-Purpose Flour
Mix first three ingredients together in a large mixing bowl that has a lid.
Isn't my little helper so cute! She was so excited to see how big the dough got!
Dump in all the flour at once and stir with a large spoon. Stir until all the flour is incorporated.
At this point the dough will be very wet and much rougher than typical dough. Don't worry, it's supposed to!
Place the lid on the bowl, but don't seal. You want the gases from the yeast to escape!
Allow the dough to sit at room temperature for at least two hours. After this time, it will have begun to fill up the bowl and you will see bubbles throughout the dough. Allow it to settle, the top will be flat. Do not try to punch down!
At this point the dough can sit in your fridge for up to two weeks. You can use it immediately, but it is easier to work with once it has had time to chill. I let mine sit over night.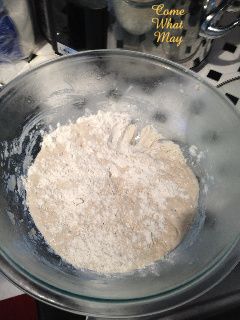 Sprinkle flour, lightly covering the top.
Take a one pound piece of dough and form it into a ball. Place on parchment paper. At this point the crockpot recipe states that you don't need to let it rise. Mine took much longer to cook that what the recipe said and I believe it might have been because it was still cold going in. Next time I'll let it sit out for a bit first.
Place in crockpot. Cook on high for an hour. Mine ended up taking two. Bread is done when it feels firm to the touch on top. It will be a pale loaf.
(Apparently I was way too excited about eating this bread! I didn't even realize that I stopped taking pictures after this point until I went to upload them!)
Place loaf under broiler from about 5 minuted or until it reaches the desired color. Mine was a little pale and soft still because I took it out too early.
Eat and enjoy! It was a much denser loaf than I was anticipating, but still really yummy!
I had to go back and take this picture the next day!


A trick I learned: Don't cover loaves with crunchy crusts because they'll get soggy. Just stand up on the side that you cut from! I don't know how long that'll last, but it's been a day here in humid Florida and it still is crispy on the outside and soft on the inside!