23 In 23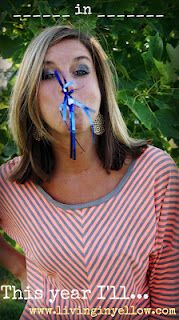 Since my birthday was in April I better get a move on!
1. Graduate college- Masters of Education from UF May 4, 2012
2. Get a big girl job
-
Kindergarten Teacher September 20, 2012
Read About It Here!
Official First Day- September 27, 2012

3. Move into our own condo- Hello South Florida! July 30, 2012
Read about it here!

4. Decorate our home

5. Pay off at least one of our student loans

6. Start walking/jogging- Officially Started September 10, 2012
The Beginning
7. Go to HP world
Season passes purchased! First visit January 1, 2013

8. Watch the sunrise on the beach

9. Take more pictures

10. Get a new camera for said pictures
11. Go on a mini vacation just Kyle and I
Anniversary Trip. January 1-2, 2013

12. Throw a dinner party

13. Spend some girl time while my two best friends and I actually live in the same area

14. Re-Read The Great Gatsby before the movie comes out

15. Grow my hair back out
16. Wear heels more than just fancy occasions
Lets be real, this isn't happening. I hate heels!
17. Buy a pair of tall boots!
Hello new favorite shoes! December 2012
18. Throw a birthday party- Kyle's 25th September 15, 2012
Read about it here

19. Keep up with my blog

20. Decorate for a holiday

21. Go to a new restaurant

22. Make a pinterest dessert -Homemade Reese Cups
Tutorial Here

23. Make a wedding album