When I first started stalking pinterest I pinned
this pin
.
I knew it would be the perfect thing for hubs since he loves chocolate and peanut butter.
Of course, I never did get around to actually making them.
For hubs birthday I knew that I wanted to make him these homemade Reese Cups.
And they were surprisingly simple.
Makes approximately 3 dozen.
In a pot over medium heat mix 1 cup creamy peanut butter, 1/4 cup butter, and 1/4 cup light brown sugar.
Stir continually until slightly bubbling.
Remove from heat.
Add powdered sugar in 1/4 cup at a time mixing each time.
I would followed the recipe and used the full 1 1/4cups, however it became really crumbly.
I should have stopped at 1 cup because it had much better texture.
Let mixture cool.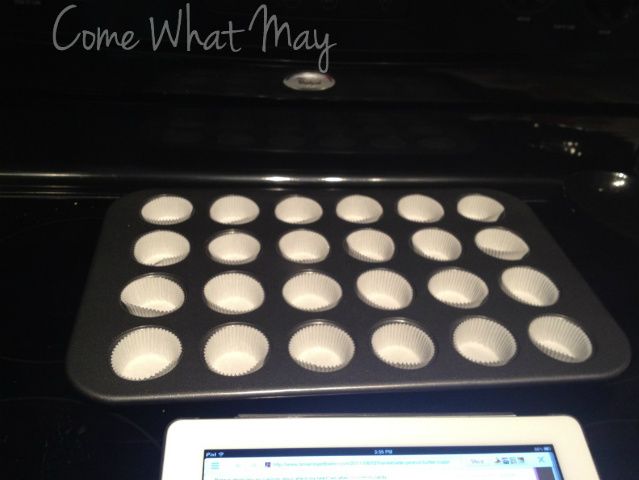 Line mini-muffin pan with muffin liners.
Mix 4 cups chocolate chips and 1/4 cup vegetable shortening.
Microwave on low for 30 seconds stirring each time.
Using a spoon, fill the bottom of each muffin liner with chocolate.
Place parchment paper on top of a cookie sheet.
Roll peanut butter mixture into balls.
Then flatten slightly to make discs.
I made mine the same size as the ones in the recipe, however, they were too big.
Make sure they only fit in the center of the muffin liner.
Otherwise the chocolate will not be able to get around them.
Refrigerate both the chocolate and peanut butter for 30 minutes.
Once done, place the peanut butter disk on top of the chocolate.
Cover completely with more chocolate.
Microwave again if needed.
Make sure that the chocolate gets all the way down on the sides or the bottom wont connect!
Refrigerate again for 30 minutes.
Keep in the fridge until ready to serve.
They tend to get soft if left out too long.
These really do taste exactly like Reese's Peanut Butter Cups.